If you're building an extension or remodelling, turning your dream kitchen into reality may seem confusing. There are many elements to consider, such as the designer, the craftspeople, the cost, the timeline, and more. Read our guide here to get answers to questions you didn't even know that you had, but needed to know!
What is a Bespoke Kitchen?
For you, this may just mean creating a fully customised kitchen, which is what it should be. However, each company has a slightly different process and understanding of the term, so take a look at what services they are actually offering. Some, such as ourselves, offer design, installation and project management so that you can specify what you need, but not have to worry about every detail. Others may not offer the installation, or may not offer any help with the electricians and plumbers. You should have a fully functioning kitchen by the end of the process, so make sure that the company you work with is willing to help out with the variety of areas.
Who to talk to?
This will depend on what company you initially decide to go with. We offer all the services you need, so communication is clear between our different departments, and the cost is factored in from the start.
If you choose to hire people separately and manage the project yourself, you should start by talking with an interior designer, then quickly get the cabinet maker involved. From there, you can get their recommendations for builders and craftspeople, which means they will probably have worked together in the past, so the end goal will be clearer for everyone involved.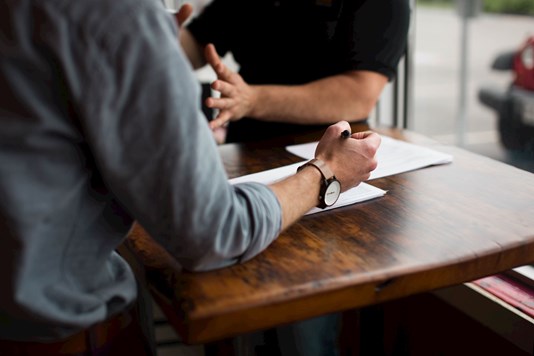 How much will it cost?
Again, this will vary immensely on the process that you choose and the company that you go with. You should be spending a minimum of 5% of the overall value of your house if you want to avoid losing money if you ever plan on selling. For bespoke units, rather than IKEA that you DIY, it will roughly cost £144/m2. Your appliances, such as ovens, taps, will cost extra, the fitting will be more, and a design service will be even more.
This may sound like a lot, but it is more lots of smaller costs stacking together. Depending on what you value, this means a bespoke kitchen could cost £20,000 or £50,000. When in conversation with your designer highlight your budget and expected costs, and they should be able to help you choose what to invest in and some cost shortcuts to take.
How long will it take?
This depends on the company and how much work you are planning on doing in the kitchen. Are you ripping up the flooring or just changing a wall of cabinets? Are the company going to make the furniture only after the design is finalised or will they have samples they can offer you? How complex is the design? Are you planning on using parts of the kitchen while it is being remodelled?
We try to get our turnaround to around 4 weeks, but this will depend on the above. For a full renovation, budget 6 months for the entire process, from design to installation. The planning process will take the longest time, but it is crucial to make sure that your kitchen is perfect.
What to do beforehand?
You should first declutter your entire kitchen. Don't plan to have a special storage spot for your aerator if you've never used it. Figure out what you need, what you want to keep, and remove the rest. Read our Guide to Decluttering here.
This will help two-fold. It will make it easier for you to transfer all of your stuff around, which can save on time, storage, and potentially storage costs. It will also make it easier for you to realise what you want from your dream kitchen – a big refrigerator to keep all your magnets, or an island so people can gather around.
You should then ask yourself these questions, then have a list of question for the designers and makers. This article is a starting point, then you should ask them for a full written quote with a detailed breakdown of costs, labour, materials, and deposit.
Then get involved and see your dream kitchen come to life!